Coronavirus is shutting down jobs, socialization, and pretty much everything fun in the world. Social distancing is now the new norm for the foreseeable future. If you're experiencing boredom while socially distancing or the more extreme sheltering in place, we've got just the solution. You don't have to go at it alone, even if you are quarantined, thanks to the magic of multiplayer video games. Check out the best multiplayer Nintendo Switch games to play while on lockdown. Just don't forget that online multiplayer requires a Nintendo Switch Online subscription.
Animal Crossing: New Horizons
In the last few days, I've seen more posts about Animal Crossing: New Horizons than any other game ever. It's adorable, it's easy-going, and it's unbelievably addictive. In Animal Crossing: New Horizons, you manage all details of a deserted island paradise. This includes paying back the consummate businessman — er, raccoon, Tom Nook. Virtually every aspect of the island and your character are customizable, making it a very personal experience.
More importantly, you can invite other players to your island for a visit or catch a flight to their islands. There, you can chat, hang out, do some shop-and-swap, or just exchange design patterns. For added multiplayer fun, you can even share the island with another player in your household, making it a couch co-op. It's not the ideal experience, thanks to some iffy design choices with setting an island leader. But it's better than no couch co-op. In this rather difficult time, Animal Crossing: New Horizons is the chill vacation we desperately need, making it one of the best multiplayer Nintendo Switch games to play while on lockdown.
Super Mario Maker 2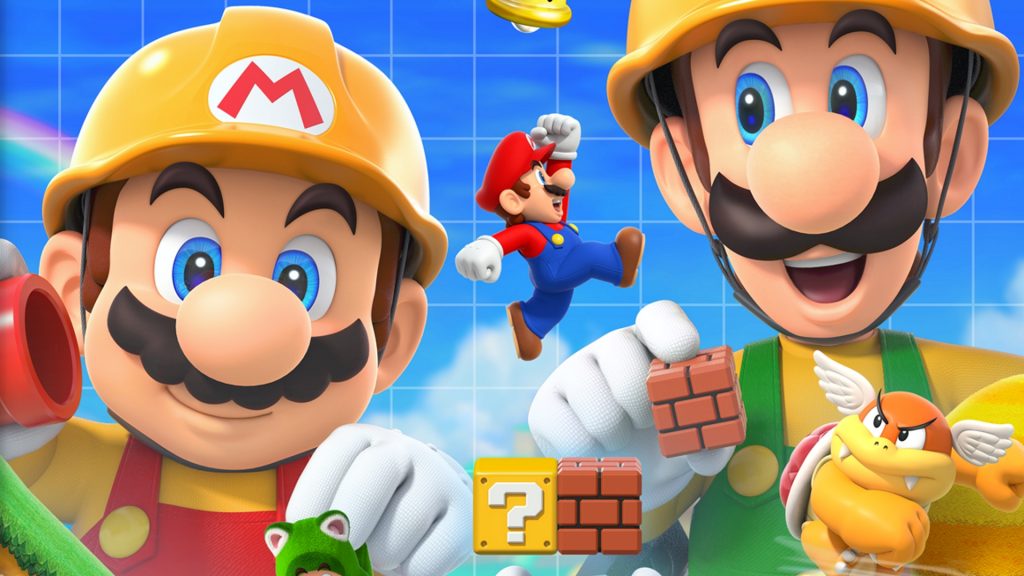 Scratch that creative itch with Super Mario Maker 2 by making the Mushroom Kingdom your own. Then unleash that creativity, or creative insanity, on an unsuspecting public by uploading your courses online. The sky's the limit in Super Mario Maker 2, thanks to the huge variety of level design tools, themes, and styles it offers.
There's a robust multiplayer mode as well. Play through levels with up to four friends, or work together to construct massive and ridiculous levels. If you've got a more competitive bent, you can choose SMM2's Versus Mode and compete to clear levels or conditions before your friends. Whether it's designing the most difficult level ever conceived or building a monument to your own awesomeness in bricks, Super Mario Maker 2 is a crowd-pleaser for any online player, ranking it among the best multiplayer Nintendo Switch games to play while on lockdown.
Splatoon 2
If you're looking for a multiplayer 4v4 game without any actual violence, look no further than Splatoon 2. It's a wild multiplayer shooter where "shooting" just means splatting your opponents and territory with ink. That's your goal. Cover everything and absolutely everyone in Inkopolis with paint and get as messy as you can. It's just plain fun all around.
Splatfest events might be finished, but there's still a number of modes to enjoy. Play online with others and experience an age-friendly battle experience like no other, and join in League Battles once you rank up. If you're aching for the best multiplayer Nintendo Switch games to play while on lockdown, Splatoon 2 has to be on the list.
Diablo III: Eternal Collection

On the more adult end of the best multiplayer Nintendo Switch games to play while on lockdown is Diablo III: Eternal Collection. It's violent, fast-paced, and brutal, and it's 100% fantasy escapism. You crawl through countless dungeons, facing off against fiends from hell and all manner of monstrous beasties. As the handy image above shows, the Switch version includes major story expansions and some Nintendo-themed goodies as well.
Though the story of warring angels and demons is an interesting one, Diablo's big appeal is always the loot collection and equipment crafting systems. Diablo III is also a great time-waster with plenty of grindy bits to keep you occupied and tough boss fights to overcome. In other words, it's a great time if you like difficult, intense co-op games with utterly addictive crafting systems.
Super Smash Bros. Ultimate
One of the staples of Nintendo's Switch arsenal is Super Smash Bros. Ultimate. It's the latest in the long-running brawler series and arguably the most fun of them all with its massive character and stage roster. Instantly one of the best multiplayer Nintendo Switch games to play while on lockdown, Super Smash Bros. Ultimate lets you create unimaginable match-ups and incredible battles from your favorite series.
Want to see Fire Emblem's Chrom go toe to toe with Persona 5's Joker? Do it. Wish Mario could fight Ganondorf, Bowser, and Dark Samus all at once? You can make it happen. Heck, make it happen in EarthBound's quaint town of Onett. Super Smash Bros. Ultimate offers an equally wide variety of multiplayer options. You can compete in tournaments, quick matches, fights with custom rules, or create your own special rooms to invite friends and play together. It's almost limitless.
Arms
Arms is the kind of bizarre take on the fighting genre you'd expect from Nintendo. It centers around a roster of super-powered characters whose powers all relate to their unique arms (imagine that!) in some form or another. And we mean unique. Arms is easy to learn but tough to master. Players must utilize a rock-paper-scissors type of system to fight and deflect opposing attacks.
You can also modify your character with different arm configurations, from springier arms to larger hands, all while comically smacking the tar out of each other. It's more than just simple boxing, though. You'll utilize different character abilities and background-specific advantages to get the literal jump on your opponent and have a hilariously challenging time doing it. With its comical gameplay and unique take on fighting, Arms definitely makes its mark as one of the best multiplayer Nintendo Switch games to play while on lockdown.
Cuphead
Cuphead looks like a cartoon straight out of the golden age of 1930s 2D animation. It's fascinating to watch and listen to, but the intense action will keep you on your toes. Cuphead is revered as being both beautiful and insanely difficult, so your best bet to make it through with sanity intact is to play with a friend. Player 2 takes control of Mugman, Cuphead's brother who also made a deal with the devil in this incredibly popular indie game.
Cuphead is, at its heart, a boss-rush game. Your time is taken up fighting against a number of outrageous cartoon bosses sent by the devil to collect your debt. Despite the high level of challenge, the game never feels cheap. Instead, it drives players to fight twice as hard to take out that boss, making the victories that much sweeter.
---
Lockdown doesn't have to be as lonely as it sounds. This selection of the best multiplayer games on Nintendo Switch is only the start too. There are plenty more out there, even if we think these represent the cream of the crop. What multiplayer games are you playing during lockdown? Let us know in the comments!